love
this production anymore?? To quote our dear Benedick, "I think not!"
Much thanks to
emraldeyedauter
and all the others who worked and worked and
worked
to influence the powers that be to make the play available,
via
the miracle of the internet, to all of us who were not privileged to see it live!
Gonna go watch it again, now!
I had every intention of being more a presence after the first of the year, but life sort of put the kibosh on that. Nothing terribly drastic, just a lot of little stuff. Anyway, checking in. Oh, and I downloaded/watched "Much Ado About Nothing" today! Could I
swear Buffy is smirking...

Life with cats is never dull. Even when you want it to be
I'm stretched out on the couch watching the History Channel (yes, I'm a bit of a nerd. Quelle surprise.) and my cats are likewise semi-somnolent, until Tiger wakes up and decides that he needs to bother Buffy for a bit. Buffy is curled up on my shoulder, Tiger is at my feet. El Gato Tigre attempts to leap from where he is to where she is. Considering that he weighs as much as a 747 but is nowhere near as aerodynamic, he doesn't quite make it, and I have thirty-five pounds of tabby blinking at me from my stomach, and I
Anyway, holidays are over and that means NO MORE CHOCOLATE (until next Christmas!) and only one mocha frappe a month. In the candy dish at work are boxes of raisins and cranberries and those little individually wrapped prunes. Yes, PRUNES. *lol*
Which brings me to the point of this ramble. I was sitting at my desk, looking at the plastic wrapping around the raisin boxes and saw something that made me say "huh?". See if you can find it. (Clue: big money companies should hire proof-readers.)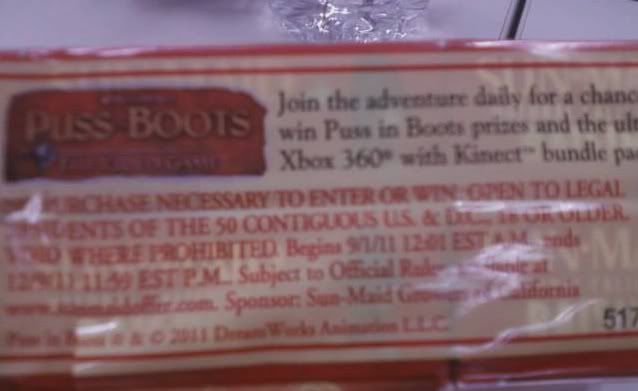 Saw the doctor yesterday - almost one year post-stroke, so we evaluated where I am, how far I've come (which is far) and what will be the facts of life going forward - continued numbness in my right arm, for example. Still works fine, just doesn't always feel attached. Eh, I've gotten used to it. So, bottom line, life is back to the "new" normal, and that's more than fine... :D
What is your favorite quote?
If you're gonna stand on thin ice, you might as well dance.
Seriously, that has been my motto for thirty-plus years. Over and above "life is too short to drink bad wine" and "if I can laugh at it, it can't be that bad".
I've tapped danced my way across ice so thin, it might as well be water, and sometimes I've fallen through. But I won't ever stop. Because to stop is to surrender, and that ain't happenin'...
Hark! I think I hear music... :D
*pirouettes*
Should auld acquaintance be forgot,
and never brought to mind?
Should auld acquaintance be forgot,
and auld lang syne?

For auld lang syne, my dear,
for auld lang syne,
we'll tak a cup o' kindness yet,
for auld lang syne.

May the good from the year past be multiplied ten-fold, and the bad be a distant memory. May we find satisfaction in all things, great and small. May our friends be our bulwark, our loves be our comfort and our lives full of joy.


And this shall be a sign unto you; Ye shall find the babe wrapped in swaddling clothes, lying in a manger. And suddenly there was with the angel a multitude of the heavenly host praising God, and saying, Glory to God in the highest, and on earth peace, good will toward men.

Luke 2:8-14
And there were in the same country shepherds abiding in the field, keeping watch over their flock by night. And, lo, the angel of the Lord came upon them, and the glory of the Lord shone round about them: and they were sore afraid. And the angel said unto them, Fear not: for, behold, I bring you good tidings of great joy, which shall be to all people. For unto you is born this day in the city of David a Saviour, which is Christ the Lord.